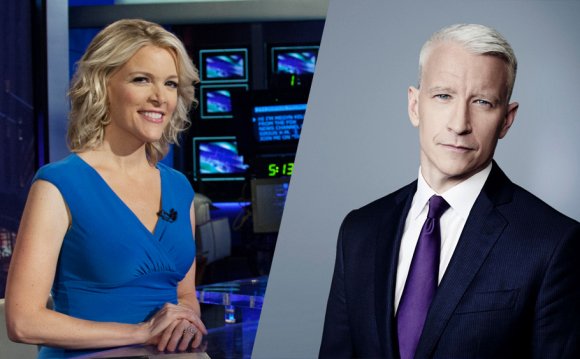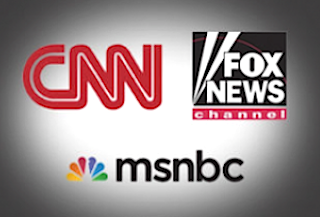 In a month that began with the first Republican presidential debate and was from that point forward dominated by the Donald Trump show, Fox News, which hosted the debate, not only maintained its position as the #1 cable news network, but also bested every other basic cable channel in primetime. Elsewhere, CNN continued its dominance over MSNBC in the 25-54 demo in primetime and MSNBC held onto second place in total viewers amidst shake-ups in its daytime schedule.
Below are highlights from all three networks for the month of August.
Fox News
Megyn Kelly may have taken a 10 day vacation during the month of August, but her Fox News show, The Kelly File, still emerged victorious as the most-watched cable news show in the 25-54 demo with an average of 566K viewers. The O'Reilly Factor came in second place with 541K in the demo and Hannity was third with 444K.
In total viewers, Bill O'Reilly's show remained #1 for all of cable news with 3.016M, followed by The Kelly File with 2.749M and Special Report with Bret Baier with 2.115M. Additionally, Hannity had a strong month too––his highest-rated to date–– with 1.823M.
For the second time this year, Fox News outranked every other cable network in primetime total viewers, including TNT, USA, HGTV and TBS. By comparison, MSNBC came in at #22 and CNN came in at #30 in primetime total viewers. In addition, Fox was the only network that saw year-to-year gains in the primetime demo, up an impressive 64% compared to last August.
CNN
In the race for second place, CNN had the most to brag about in August. In Total Day, CNN beat MSNBC 127K to 92K in the 25-54 demo and 436K to 378K in total viewers. CNN also beat MSNBC in the demo during primetime, 178K to 142K for the 14th consecutive month, its longest-streak in over seven years. The only category in which MSNBC beat CNN was primetime total viewers, 639K to 574K.
Anderson Cooper 360 was the highest rated show on CNN in total viewers (averaging 689K) and tied CNN Special Report at 9 p.m. for the top spot in the demo (both shows averaged 198K). CNN Tonight with anchor Don Lemon came in second place in the demo with 190K and third in total viewers with 586K.
Other good news for CNN came in the mornings where New Day beat MSNBC's Morning Joe in the demo for the 14th straight month, 98K to 96K. And State of the Union with Jake Tapper, which made its debut on Sunday, June 14, was #2 in total viewers at 9 a.m., up double-digits from a year ago when Candy Crowley was hosting.
Still, compared to August 2014, when CNN received a big ratings bump from its coverage of the protests in Ferguson, Missouri, the network was down across the board. In primetime, CNN dropped 9% in total viewers and 17% in the demo.
MSNBC
As mentioned above, MSNBC remained in third place in all major ratings categories last month except one: primetime total viewers, where it beat CNN 639K to 574K. And unlike CNN, MSBNC actually increased year-to-year in that category, up 12% compared to last August. Though in the 25-54 demo in primetime, MSNBC was down 7% to 142K (compared to 178K for CNN).
The Rachel Maddow Show led the network in total viewers with an average of 919K, followed by Hardball with Chris Matthews at 810K and The Last Word with Lawrence O'Donnell at 726K.
In the 25-54 demo, Rachel Maddow was #1 on the network with an average 172K viewers, but barely broke the top 20 cable news shows overall. Her show was followed by Friday night's MSNBC Investigates at 166K and then Chris Matthews at 147K.
With 462K average total viewers, Morning Joe saw its best ratings since 2013, topping CNN's New Day, which averaged 326K, for the sixth consecutive month.
Brian Williams is expected to start his new position as breaking news anchor on MSNBC sometime this month, giving the network what it hopes will be increased ratings dayside.
YOU MIGHT ALSO LIKE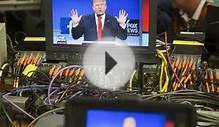 Fox News Top Cable Network for Summer 2015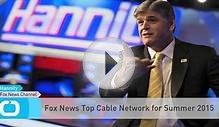 Fox News And CNN Win Cable Network Ratings Wars In Third ...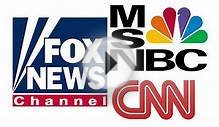 Cable News Ratings: Fox News Only Network Up in April
Share this Post